When you renew your PTIN this year you'll notice a new option.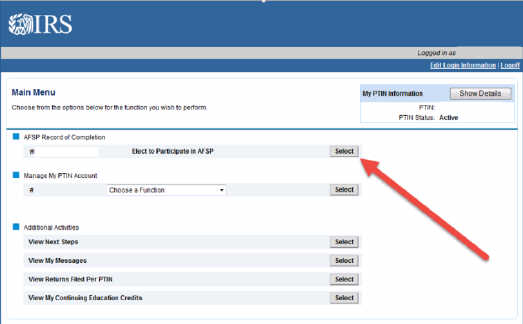 You will see an option to participate in the Annual Filing Season Program.
The Annual Filing Season Program. (AFSP) is an IRS Effort to recognize tax preparers who aspire to a higher degree of professionalism. By participating in the program you are electing to complete a specific amount of continuing education and in turn you will receive all the benefits of the program including getting a record of completion directly from the IRS that will be available in your PTIN account once the completed courses have been reported to the IRS.
Benefits of completing the course with My Tax Courses Online:
Record of Completion from the IRS
Ability to the use the AFSP as a designation on business cards, company letterhead and other marketing materials
Retain representation rights for returns you prepare
Listing in the IRS Public Directory of Federal Tax Preparers with Credentials and Select Qualifications
The Only AFSP course that is in HD Video
Presented by renowned Tax Expert Dr. Bart Basi
The updates you need to prepare for the 2015 filing season
Read more about the program at Irs.gov or simply return to the homepage. Home page
http://www.irs.gov/Tax-Professionals/Frequently-Asked-Questions-Annual-Filing-Season-Program